Legend Outside wood or coal stove
Legendstove@onemain.com

Back to Main Page
Legend Parts and Supplies
LEGEND OUTSIDE wood or coal stove
Simple, Practical, Clean, Safe. A 24-Hour Year-round System That Burns and Stores Heat for Days Until Needed.
-
-
-
LEGEND is the Most Efficient Residential Wood Burner on the Market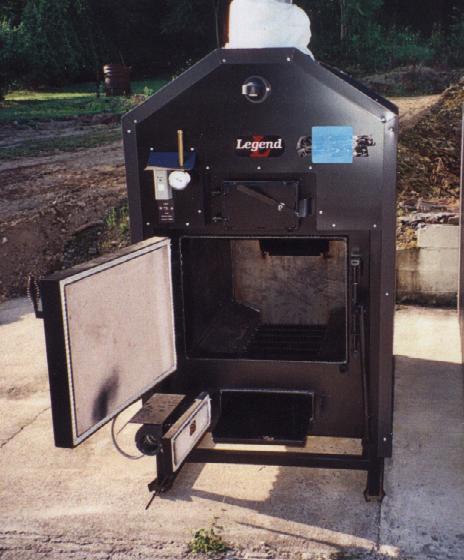 The Legend is well insulated and has very little heat loss to the out doors. The large steel fire box and the design of the flue,going through the water,transfers more heat into the water storage area more efficently than any other wood burner on the market today.

A clean-burning fire is more efficient than a smokey air-restricted fire.The forced draft will burn hotter and therefore cleaner. Secondary gases burn at 1200 degrees. Legend will exceed that temperature.

DOUBLE BY-PASS Heat Efficiency Feature Rises Above All Others
The Legend consists of a durable wood-burning firebox surrounded by a water tank. Heat transfer to water is maximized with Legend double by-pass flue. The stainless steel flue pipe runs horizontally through the holding tank cleanout box.It makes a second pass through the holding tank to the stack at the front. By burning secondary gases, Legend's Demand Burn Auto Draft System increase burning efficiency.
Outdoor Wood Fired Stove with Water .
Legend Stoves offers the safest way to heat any structure. All fire is taken out of your home or building providing you with purer, cleaner air and lower insurance rates than with an indoor wood stove. Legend units are vented into the air,eliminting the dangers and regulations of a pressurized boiler. Legend unit will burn cleanly,safely and efficiently----unsplit wood,etc.
Just A Few of the Reasons Legend is Better
Like a gold mine-it works 24 hrs. a day,year round to cut your heat and hot water bills.
Safe--Unlike a woodstove,it's outside your house. No fear of fire,explosions or asphyxiation while you sleep.
Clean--No smoke,dirt,ashes,termites or insects indoors.
Efficient--Uses less wood and does more heating.
Stores Heat--Water absorbs heat;even if the fire is out you'll still get heat for many hours,even days.Burn it only a few hours in the summer or spring--yet your domestic water stays hot for days.
Carefree--No need to feed the fire every couple of hours. Your fire can go out and you still have heat.
Healthy Heat--Not the dry, irritating heat of a wood stove.
Simple--It's a simple structure; it ties directly to your system--via hot water radiators, hot water baseboard or a hot water coil in the duct system.
Quality Engineering--The design structure, the fire box, the door, the heat exchanger, the automatic draft control, and the oxygen flow all symbolize our dedication to quality and efficiency.
Long-Lasting Return--Whether you use it alone or tie it into a solar unit, a correctly maintained Legend Hot Water Furnace will last for years.
A new decorative covering for improved appearance.
Legend is the Safest Way To Heat Your House
The fire is outside,away from the house. No fear of fire while you're asleep. No chance of asphyxiation in your home from gases caused by a blocked chimney. No chimney fires which have burnt many homes and threatened many others. Legend gives you SAFE wood heat without the problems that are raising the insurance rates of owners of indoor wood burners.
Legend Provides Thermostatically-Controlled Heat
The heat from the Legend is thermostatically controled by a thermostat in the home. This turns on a small circulating pump which brings hot water to heat your home and then returns it to the Legend. Unlike ordinary wood stoves the Legend can heat every room in your house uniformly with the comfort you are accustomed to with automatic heat.
Legend Provides All of Your Domestic Hot Water
Twelve months of the year, the heat stored in the water of the Legend supplies all of your hot water needs. This eliminates the use of a hot water heater in the home. An electric hot water heater cost the average home owner 20 to 30 percent of his electrical bill or more.
Heating With a Legend is Clean
(1) Don't carry wood,logs,etc,
(2) No smoke in the home
(3) No ashes to be removed in your home, no dust from ashes or hot coals to drop on the floor.

Back To Basics Heating----Way Ahead Of Its Time
While all brands claim a 12 to 24 hour burn for each load of wood, Legend stoves will provide a MINIMUM of 12 hours of burn from the smallest firebox made. Insulation around the tank and on the door keeps more heat in. Hot water is than pumped through an insulated pipe to a heat exchanger unit located in your heating ductwork, or through an existing hot water system or baseboard water unit and through a separate line to your hot water heater tank for domestic hot water.
All contents of this Website are the property of C & E Stoves. Any unauthorized duplication is a violation of applicable laws.